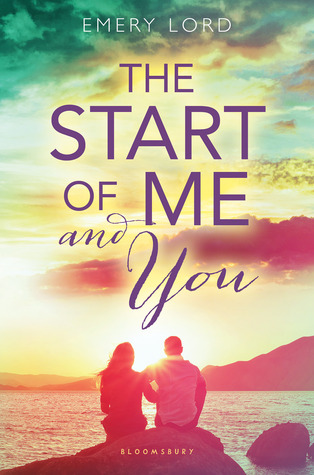 "The Start of Me and You" by Emery Lord
Genre: Young Adult Fiction, Contemporary
Source: Uppercase Box
Summary from Goodeads:
It's been a year since it happened—when Paige Hancock's first boyfriend died in an accident. After shutting out the world for two years, Paige is finally ready for a second chance at high school . . . and she has a plan. First: Get her old crush, Ryan Chase, to date her—the perfect way to convince everyone she's back to normal. Next: Join a club—simple, it's high school after all. But when Ryan's sweet, nerdy cousin, Max, moves to town and recruits Paige for the Quiz Bowl team (of all things!) her perfect plan is thrown for a serious loop. Will Paige be able to face her fears and finally open herself up to the life she was meant to live?
Great group of friends. You could really feel how much they cared about each other and it all felt very natural.
I thought it was cool that Paige was really passionate about screen writing.  I love it when protagonists actually have hobbies and interests. It felt real without trying to be ~*quirky*.
I thought Paige's situation was unique and examined very well. Yes, Aaron's death was horrible. Yes, it will be something that will be with Paige for the rest of her life but she still needs to move on. She didn't know him that well. That accident shouldn't define her for the rest of her life.
I think anyone could have seen what was going to happen with Paige and Max but it was still delightful to watch play out.
The bottom line? I don't think it was anything new or different but it was a good story about growing up and moving on.

Related articles