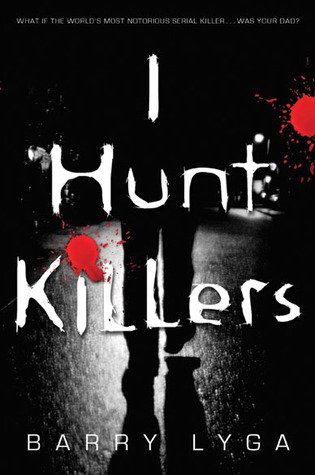 "I Hunt Killers (Jasper Dent #1)" by Barry Lyga
Genre: Young Adult Fiction, Mystery, Thriller
Summary from Goodreads:
 What if the world's worst serial killer…was your dad?
Jasper "Jazz" Dent is a likable teenager. A charmer, one might say.
But he's also the son of the world's most infamous serial killer, and for Dear Old Dad, Take Your Son to Work Day was year-round. Jazz has witnessed crime scenes the way cops wish they could—from the criminal's point of view.
And now bodies are piling up in Lobo's Nod.
In an effort to clear his name, Jazz joins the police in a hunt for a new serial killer. But Jazz has a secret—could he be more like his father than anyone knows?
Oh man. I didn't realize how deeply unsettling this story was going to be. The author doesn't hold back with the twistedness of the story particularly with how creepy Dear Old Dad is.
It was really interesting to see the other side of the story. I watch police dramas sometimes. With those you get to see cops trying to catch the bad guys. Even though Jazz isn't a serial killer, he thinks like one. We get to see the how warped he is from the damage Dear Old Dad did. So we got to see how a serial killer would think about killing someone or how best to do it and leave no evidence.
Good mystery. I was kept on the edge of my seat. I never knew how twisted or dark things would get.
Jazz had some good struggles and character growth. You could see him fighting himself. He believes he's good (and so do I) but there definitely are evil thoughts lurking in him that are trying to break free.
The bottom line? Unsettling but awesome.