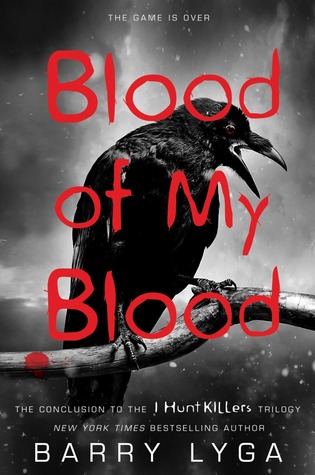 "Blood of My Blood (Jasper Dent #3)" by Barry Lyga
Genre: Young Adult Fiction, Mystery, Thriller
Summary from Goodreads:
Jazz Dent has been shot and left to die in New York City. His girlfriend Connie is in the clutches of Jazz's serial killer father, Billy. And his best friend Howie is bleeding to death on the floor of Jazz's own home in tiny Lobo's Nod. Somehow, these three must rise above the horrors their lives have become and find a way to come together in pursuit of Billy. But then Jazz crosses a line he's never crossed before, and soon the entire country is wondering: "Like father, like son?" Who is the true monster?
The chase is on, and beyond Billy there lurks something much, much worse. Prepare to meet…the Crow King.

Oh man, just when you didn't think things could get more intense…they do. It's nice that this book doesn't follow the basic plot of the other books. It's its own unique story that we start in the middle of. Things are pretty much insane and nothing is off limits.
The story certainly wasn't boring. There were many, many twists. Crazy revelations.  You couldn't and didn't want to stop reading. Always a plus.
I thought all three of our characters made great progress. It was interesting seeing them grow up and how much they were willing to risk for friendship and love. It was great to see Jazz fight with himself. It really shows that you make the decision about how you turn out. Not nature or nurture. It was good to see how far he was willing to go and the roads he would not cross no matter what. Connie was great. It was nice to see some diversity. She wasn't just a throw away character. She was a bit stupid with her actions but she was definitely a strong woman who could handle herself and the situations she was in. Even Howie, who almost bled out from a scratch on the hand, did a good job of holding his own.
The bottom line? Great conclusion.
I need to read something happy ASAP. I've been in this dark, twisted mind for too long.
Related articles