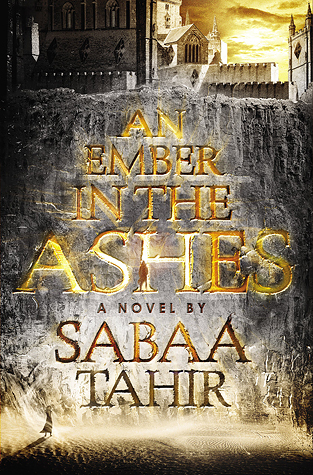 "An Ember in the Ashes (An Ember in the Ashes #1)" by Sabaa Tahir
Genre: Young Adult Fiction, Fantasy
Source: Library
Other An Ember in the Ashes books
Summary from Goodeads:
Laia is a slave.
Elias is a soldier.
Neither is free.
Under the Martial Empire, defiance is met with death. Those who do not vow their blood and bodies to the Emperor risk the execution of their loved ones and the destruction of all they hold dear.
It is in this brutal world, inspired by ancient Rome, that Laia lives with her grandparents and older brother. The family ekes out an existence in the Empire's impoverished backstreets. They do not challenge the Empire. They've seen what happens to those who do.
But when Laia's brother is arrested for treason, Laia is forced to make a decision. In exchange for help from rebels who promise to rescue her brother, she will risk her life to spy for them from within the Empire's greatest military academy.
There, Laia meets Elias, the school's finest soldier—and secretly, its most unwilling. Elias wants only to be free of the tyranny he's being trained to enforce. He and Laia will soon realize that their destinies are intertwined—and that their choices will change the fate of the Empire itself.
The book was really quick paced which always makes for enjoyable reading.
The setting was a bit odd. It's "inspired" by ancient Rome but not really. I was expecting more than just having Roman names and references to some fantastical creatures.
Is it weird that I liked that Laia was a bit of a weakling? She runs away when her brother is captured. It was refreshing to see a heroine who acts like a normal person. Most people aren't going to run head first into a situation where death is pretty much a guarantee.  She runs because it's what Darin told her to do and she was scared. She gains courage throughout the story but she seems pretty normal.
The trials were interesting. I liked that all bets were off for them. Literally anything could happen. Nothing was off limits.
Worse than a love triangle is…a love square. Didn't really feel any chemistry for any of the partners.
All the throwaway references to rape were really annoying. I guess they might contribute to the atmosphere of the book but I felt the were off putting.
The bottom line? Thrilling but not loveable.

Related articles