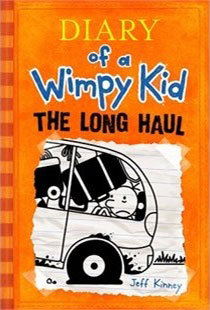 "The Long Haul (Diary of a Wimpy Kid #9)" by Jeff Kinney
Genre: Children's/Middle Grade Fiction, Humor
Other Diary of a Wimpy Kid Books
Source: Library
Summary from Goodreads:
Greg Heffley and his family hit the road in author-illustrator Jeff Kinney's latest installment of the phenomenally bestselling Diary of a Wimpy Kid series.
These books get pretty repetitive but I think Kinney does best with universal experiences. What could be more universal than family vacations? They come from the best intentions but somehow end up being messes.
The Heffleys managed to have to worst. trip. ever. Thankfully it made hilarious reading for us though. Readers haven't experienced all the bad things in this book but we've had a few of them happen (losing keys, car breakdowns, horrible sleeping arrangements). All of that makes for a very relatable story and many I'm-so-glad-that's-not-me moments.
The bottom line? Funny!