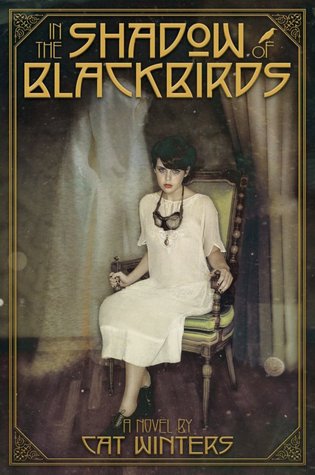 "In The Shadow of Blackbirds" by Cat Winters
Genre: Young Adult Fiction, Historical Fiction, Paranormal
Source: Library
Summary from Goodeads:
In 1918, the world seems on the verge of apocalypse. Americans roam the streets in gauze masks to ward off the deadly Spanish influenza, and the government ships young men to the front lines of a brutal war, creating an atmosphere of fear and confusion. Sixteen-year-old Mary Shelley Black watches as desperate mourners flock to séances and spirit photographers for comfort, but she herself has never believed in ghosts. During her bleakest moment, however, she's forced to rethink her entire way of looking at life and death, for her first love—a boy who died in battle—returns in spirit form. But what does he want from her?
Featuring haunting archival early-twentieth-century photographs, this is a tense, romantic story set in a past that is eerily like our own time.
Delightful blend of paranormal with historical fiction. Err…maybe delightful isn't the best word for a book about death. Basically it's a really good blend of the two seemingly different genres. The story is firmly rooted in historical fiction. You can see and feel that. At the same time, the paranormal elements never seem out of place.
As an all out weenie when it comes to scary things, I loved how the book played with the elements of paranormal activity. It was never outright terrifying but there was a certain edge of unease about the story. I got my own chills and anxiousness about what was going on. It was enough to keep me comfortably wanting more.
Mary is a great protagonist. She's not the 'normal' girl of her day. She's loved science from childhood and wasn't going to take things at face value. She fought everyone about the truth they were feeding her. Her relationship with Stephen was a really interesting one. We never really got to see them together but you still loved them together. You really felt how much they cared for each other.
I can certainly say I was not expecting the story to turn out like that. Major kudos for keeping me on my toes. It's definitely a lot darker and twisted than I ever had in mind. It was a great mystery though because I didn't want to put the book down. I devoured it in an afternoon!
Side note: This is how to incorporate photographs into your story. They simply added to the atmosphere of the story. The never felt forced in and the story wasn't contorted to make them fit.
The bottom line? Wonderfully spooky mystery.

Related articles