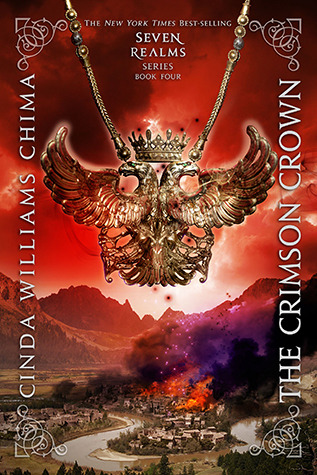 "The Crimson Crown (Seven Realms #4)" by Cinda Williams Chima
Genre: Young Adult Fiction, Fantasy
Source: Library
Summary from Goodreads:
A thousand years ago, two young lovers were betrayed-Alger Waterlow to his death, and Hanalea, Queen of the Fells, to a life without love.
Now, once again, the Queendom of the Fells seems likely to shatter apart. For young queen Raisa ana'Marianna, maintaining peace even within her own castle walls is nearly impossible; tension between wizards and Clan has reached a fevered pitch. With surrounding kingdoms seeking to prey on the Fells' inner turmoil, Raisa's best hope is to unite her people against a common enemy. But that enemy might be the person with whom she's falling in love.
Through a complicated web of lies and unholy alliances, former streetlord Han Alister has become a member of the Wizard Council of the Fells. Navigating the cut-throat world of blue blood politics has never been more dangerous, and Han seems to inspire hostility among Clan and wizards alike. His only ally is the queen, and despite the perils involved, Han finds it impossible to ignore his feelings for Raisa. Before long, Han finds himself in possession of a secret believed to be lost to history, a discovery powerful enough to unite the people of the Fells. But will the secret die with him before he can use it?
A simple, devastating truth concealed by a thousand-year-old lie at last comes to light in this stunning conclusion to the Seven Realms series.
Is it over? WHY IS IT OVER? I just want to be with these characters forever. I've grown to love them so much. It's really been amazing seeing them grow over the course of the series.
Raisa has bloomed into a fantastic Queen. We really don't know much about the Gray Wolf Queens beyond Hanalea and Marianna but you get the impression that they weren't the best Queens they could be. They're easily influenced and persuaded. They take the easy way out.  Raisa put an end to that and became the Queen the Fells needed. She made changes that were desperately needed. She fought shoulder-to-shoulder with her people when the time came. She was willing to do whatever it took to keep her people safe.
Han's character had a great story arc as well. Who would have thought that streetlord Cuffs Alister would become Consort to the Queen, High Wizard, and be able to stand his own ground in the world of Blue Bloods? I didn't but I'm so happy that it worked out. It was definitely a tough road for him to get there. It was so frustrating seeing Han set up. You knew what he was doing but you could see what other might think. Poor guy couldn't catch a break. I love that like Raisa he wasn't scared about making the changes that needed to be made. I really hope that the new generation of Clan and Wizards can keep up their working together.
Even Micah surprised me. Way back in the Demon King, I thought he wasn't evil, just hung up in bad plans. I still think that's true. His father was the evil one and was the one stringing Micah along. I don't think Micah really knew the full story so he was having to trust his father's lies. He really and truly wanted what was best for Raisa and in turn what was best for the Queendom. When he started making decisions for himself, he become much more likeable.
The story had great suspense. You really didn't know what was going to happen. Some of the revelations I never saw coming. As a result, I was hurt like Raisa when things started coming to the surface.
The bottom line? Top notch high fantasy book. It was a beautiful ending to a great series.

I continue to say I'm not a huge fan of high fantasy but this series makes me reconsider that point. I highly recommend this series to all fantasy fans and those in search of great audiobooks.
Related articles