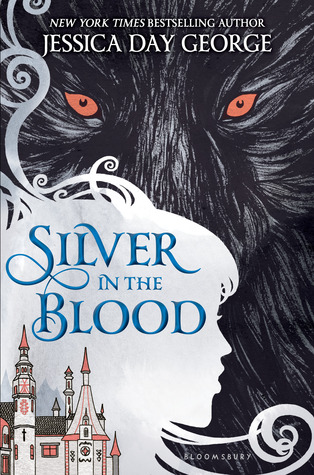 "Silver in the Blood (Silver in the Blood #1)" by Jessica Day George
Genre: Young Adult Fiction, Fantasy
Other Silver in the Blood books
Source: Library
Summary from Goodreads:
Society girls from New York City circa 1890, Dacia and Lou never desired to know more about their lineage, instead preferring to gossip about the mysterious Romanian family that they barely knew. But upon turning seventeen, the girls must return to their homeland to meet their relatives, find proper husbands, and—most terrifyingly—learn the deep family secrets of The Claw, The Wing, and The Smoke. The Florescus, after all, are shape-shifters, and it is time for Dacia and Lou to fulfill the prophecy that demands their acceptance of this fate… or fight against this cruel inheritance with all their might.
With a gorgeous Romanian setting, stunning Parisian gowns, and dark brooding young men, readers will be swept up by this epic adventure of two girls in a battle for their lives.
I liked the story but it didn't have the charm of JDG's other books.
I did appreciate that it's a different type of fantasy book. How often are YA books set in Romania?
The story toyed with some interesting fantasy ideas. The Florescus are magically tied to the Dracula family? There wasn't enough explanation for me. I'm still curious as to how the family got the powers in the first place.
Lou and Dacia's friendship was great. I love how they close they were.
It was great to see Lou and Dacia's strength. They were forced into some weird things but they held firm and didn't cave into their families wishes.
The other characters were on the bland side. I wasn't really impressed with any of the love interests.
This supposedly is a start to a new series? I liked how this story wrapped up pretty well on its own. There weren't any major loose threads. You could read this and walk away pretty easily. You can see where future books might lead though.
The bottom line? I liked it!
Related articles