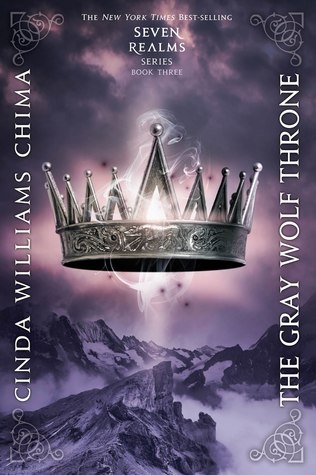 "The Gray Wolf Throne (Seven Realms #3)" by Cinda Williams Chima
Genre: Young Adult Fiction, Fantasy
Source: Library
Summary from Goodreads:
Han Alister thought he had already lost everyone he loved. But when he finds his friend Rebecca Morley near death in the Spirit Mountains, Han knows that nothing matters more than saving her. The costs of his efforts are steep, but nothing can prepare him for what he soon discovers: the beautiful, mysterious girl he knew as Rebecca is none other than Raisa ana'Marianna, heir to the Queendom of the Fells. Han is hurt and betrayed. He knows he has no future with a blueblood. And, as far as he's concerned, the princess's family as good as killed his own mother and sister. But if Han is to fulfill his end of an old bargain, he must do everything in his power to see Raisa crowned queen.
Meanwhile, some people will stop at nothing to prevent Raisa from ascending. With each attempt on her life, she wonders how long it will be before her enemies succeed. Her heart tells her that the thief-turned-wizard Han Alister can be trusted. She wants to believe it—he's saved her life more than once. But with danger coming at her from every direction, Raisa can only rely on her wits and her iron-hard will to survive—and even that might not be enough.
I no longer care that the series isn't fast paced and action packed. I love taking my time with the story and characters. I'd spend forever just 'hanging out' with them if I could.
I'm not sure if it's the writing or my listening rather than reading but I feel so connected with characters in this book. I feel for poor Raisa. She really does want to do right by everyone but there's no way for her to do it. It doesn't help that at least one person gives her crap for every decision she makes. I can't fathom how alone she feels. I couldn't help but cheer for her the entire way. I definitely teared up when she was finally crowned Queen.
Then there's Han. He's an outsider no matter where he goes and what he does. You can imagine how isolating that would be. Then there's the bombshell of who Rebecca Morley is. My heart broke when Raisa finally admitted who she was. The admission took away another person away from Han. It was good to see him mature over the course of the book. He went from hating Raisa to begrudgingly protecting her to maybe understanding why she lied to realizing that he loves her despite everything.
I actually kind of enjoyed the romance in this book. Sure there's a bit of a revolving door of suitors. It's a little amusing because they're all skeezes. It's also sad because they're all skeezes and you start to realize that's what Raisa has to look forward to. It was wonderful to see Han and Raisa together though. It's clear that they love each other but can't be together. I think things are lining up where it might be possible for them to get together.
The politics were wonderful in the book. You could see everything falling into place. The Wizard Council had a nasty hand in the events even if it's not proven. Raisa potentially could have lost everything. Neighboring kingdoms are starting to get out control and are eying the Fells as a prize.
The bottom line? I love this series. On to the final book!

Related articles