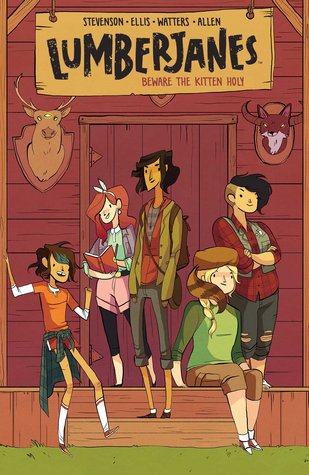 "Lumberjanes, Volume 1" by Noelle Stevenson, Grace Ellis, Brooke A. Allen
Genre: Middle Grade/Children's Fiction, Graphic Novel
Source: Library
Summary from Goodreads:
FRIENDSHIP TO THE MAX!
At Miss Qiunzilla Thiskwin Penniquiqul Thistle Crumpet's camp for hard-core lady-types, things are not what they seem. Three-eyed foxes. Secret caves. Anagrams. Luckily, Jo, April, Mal, Molly, and Ripley are five rad, butt-kicking best pals determined to have an awesome summer together… And they're not gonna let a magical quest or an array of supernatural critters get in their way! The mystery keeps getting bigger, and it all begins here.
So fun!
I love how the story was really female dominated.
I love how all the girls were strong women yet they still sometimes needed help. It's always a good reminder that those can go together.
It was cool that we got a big, diverse cast. The downside is I didn't feel like I knew anyone that well because of how little 'time' we actually spent with each girl. Hopefully we get to know them better in future comics!
Because RA (reader's advisory) is always on the back of my mind, I'd say this is a great pick for fans of Adventure Time.
The bottom line? Fun comic for everyone!

Related articles