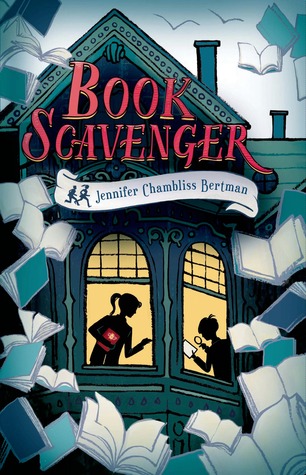 "Book Scavenger" by Jennifer Chambliss Bertman
Genre: Children's/Middle Grade Fiction, Mystery
Source: Library
Summary from Goodreads:
A hidden book. A found cipher. A game begins . . . .
Twelve-year-old Emily is on the move again. Her family is relocating to San Francisco, home of her literary idol: Garrison Griswold, creator of the online sensation Book Scavenger, a game where books are hidden all over the country and clues to find them are revealed through puzzles. But Emily soon learns that Griswold has been attacked and is in a coma, and no one knows anything about the epic new game he had been poised to launch. Then Emily and her new friend James discover an odd book, which they come to believe is from Griswold and leads to a valuable prize. But there are others on the hunt for this book, and Emily and James must race to solve the puzzles Griswold left behind before Griswold's attackers make them their next target. 
*Sigh* Why isn't Book Scavenger real? I'd really like to play.
The mystery was a lot of fun. It was fun learning about the different codes and ciphers Emily and James used. I would have really loved to see some back matter with how to use the codes.
I think the mystery was too much for readers to solve which was disappointing.
I like that it felt like some of the classic children's mysteries out there like The Westing Game.
Emily was a great character. She's smart, resourceful, and passionate. James was a good character as well. He balanced Emily well and I really appreciated that he wasn't afraid to call her on her crap.
The bottom line? Fun adventure and mystery!