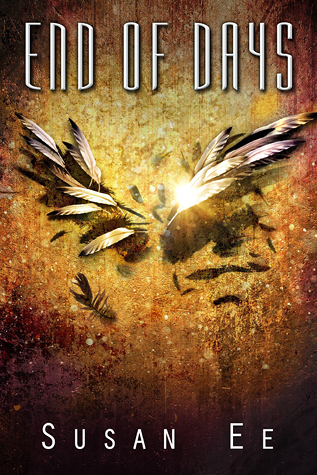 "End of Days (Penryn & the End of Days #3)" by Susan Ee
Genre: Young Adult Fiction, Fantasy, Post Apocalyptic
Other Penryn & the End of Days books
Source: Library
Summary from Goodreads:
After a daring escape from the angels, Penryn and Raffe are on the run. They're both desperate to find a doctor who can reverse the twisted changes inflicted by the angels on Raffe and Penryn's sister. As they set off in search of answers, a startling revelation about Raffe's past unleashes dark forces that threaten them all.
When the angels release an apocalyptic nightmare onto humans, both sides are set on a path toward war. As unlikely alliances form and strategies shift, who will emerge victorious? Forced to pick sides in the fight for control of the earthly realm, Raffe and Penryn must choose: Their own kind, or each other?
Yet again I had no idea where we we're going to go. The story was all over the place…but I liked it.
I really loved Penryn and Raffe's character evolutions. They worked together really well and they wanted what was best for their people and the other species. They really wanted something for everyone. As a result, I didn't mind that they fell for each other.
I loved humanity fighting back against the Angels. We really didn't have a shot at surviving but we were going to fight them until our last breath. I really felt that come through. It was really interesting to see the tricks the Resistance used against the Angels.
The bottom line? Good end to a really fun series.

This was a really well done (originally) self published series. It really goes to show you that you can find some good gems out there if you want to dig a bit.
Related articles