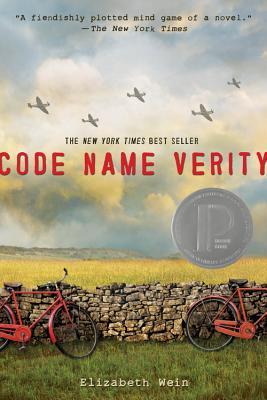 "Code Name Verity (Code Name Verity #1)" by Elizabeth Wein
Genre: Young Adult Fiction, Historical Fiction
Other Code Name Verity books
Source: Bought
Summary from Goodreads:
Oct. 11th, 1943-A British spy plane crashes in Nazi-occupied France. Its pilot and passenger are best friends. One of the girls has a chance at survival. The other has lost the game before it's barely begun.
When "Verity" is arrested by the Gestapo, she's sure she doesn't stand a chance. As a secret agent captured in enemy territory, she's living a spy's worst nightmare. Her Nazi interrogators give her a simple choice: reveal her mission or face a grisly execution.
As she intricately weaves her confession, Verity uncovers her past, how she became friends with the pilot Maddie, and why she left Maddie in the wrecked fuselage of their plane. On each new scrap of paper, Verity battles for her life, confronting her views on courage, failure and her desperate hope to make it home. But will trading her secrets be enough to save her from the enemy?
The story was very interesting. I wasn't really expecting this kind of story. I was thrown off by the style. Verity's part of the story was the most confusing for me. It was hard to track the jumps in time and the slight madness that was taking her over. The shift to Maddie's story was a nice twist because I wasn't expecting that.
The style made it difficult to fully connect with either girl. As a result I never fully loved the story. I enjoyed it. It was powerful but I didn't love it.
I really loved the friendship between the girls. It makes my heart happy to see such friendship and love between women. The only thing that made me really sad was all of the interactions we saw between the girls was in the past. We never witnessed them together in the present.
The bottom line? It was great to see two different female perspectives of the war.

Related articles