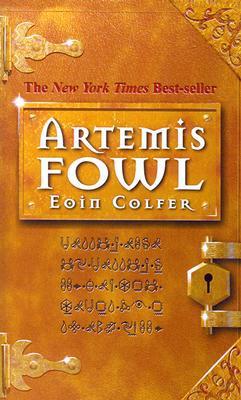 "Artemis Fowl (Artemis Fowl #1)" by Eoin Colfer
Genre: Middle Grade Fiction, Fantasy
Source: Library
Other books in the Artemis Fowl series
Summary from Goodreads:
Twelve-year-old Artemis Fowl is a millionaire, a genius—and, above all, a criminal mastermind. But even Artemis doesn't know what he's taken on when he kidnaps a fairy, Captain Holly Short of the LEPrecon Unit. These aren't the fairies of bedtime stories—they're dangerous! Full of unexpected twists and turns, Artemis Fowl is a riveting, magical adventure.
I read this book once years ago and was pretty indifferent to it. I didn't hate it but I didn't love it. A co-worker has encouraged me to give the series another try via audiobook.
I enjoyed it much more this time around. The narrator was quite good.
I was really taken aback by the number of 'hell's and 'damn's in the book. I realize it would be silly for the grown men/fairies in the book to use 'kid friendly' swear words but I don't think the swearing was necessary for the story.  It just felt really weird.
The story was fun enough. It was a very odd choice of story for a children's book.  Artemis and the use of fairies make the story juvenile but the details that went into the world of fairies and their 'military' was quite mature.
The bottom line? Much better on audio.