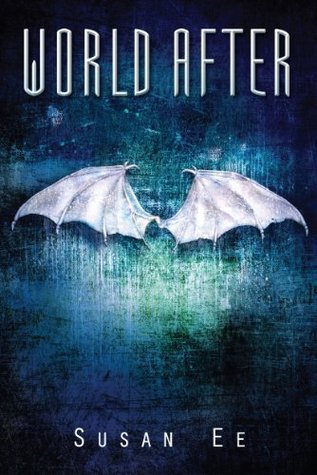 "World After (Penryn & the End of Days #2)" by Susan Ee
Genre: Young Adult Fiction, Fantasy, Post Apocalyptic
Other Penryn & the End of Days books
Source: Library
Summary from Goodreads:
When a group of people capture Penryn's sister Paige, thinking she's a monster, the situation ends in a massacre. Paige disappears. Humans are terrified. Mom is heartbroken.
Penryn drives through the streets of San Francisco looking for Paige. Why are the streets so empty? Where is everybody? Her search leads her into the heart of the angels' secret plans where she catches a glimpse of their motivations, and learns the horrifying extent to which the angels are willing to go.
Meanwhile, Raffe hunts for his wings. Without them, he can't rejoin the angels, can't take his rightful place as one of their leaders. When faced with recapturing his wings or helping Penryn survive, which will he choose?
The story is still very interesting.  Once again I had no idea where we were going to end up.
I liked that the story was a bit dark. It's scary what the angels did to the kids if Paige was any indication of what was going on. The locust people were creepy as well.
I'm still liking Penryn and Raffe's relationship. It's clear that they care for each other but I wouldn't call it a romantic relationship. It's a friendship? with them viewing each other as equals despite being on opposite sides.
Man, Ee continues to leave us on these cliffhangers! Oh well, thankfully I discovered this series fairly close to book 3's release. I shouldn't have to wait too long.
The bottom line? While I enjoyed the book, I didn't love it as much as Angelfall.