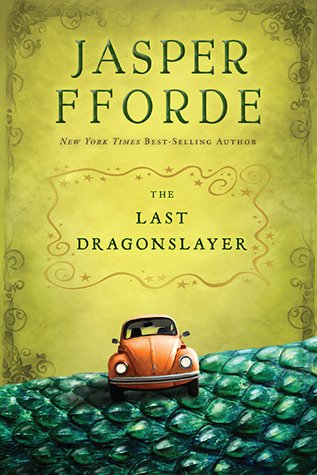 "The Last Dragonslayer (Chronicles of Kazam #1)" by Jasper Fforde
Genre: Young Adult Fiction, Fantasy
Other Chronicles of Kazam books
Source: Library
Summary from Goodreads:
In the good old days, magic was indispensable—it could both save a kingdom and clear a clogged drain. But now magic is fading: drain cleaner is cheaper than a spell, and magic carpets are used for pizza delivery. Fifteen-year-old foundling Jennifer Strange runs Kazam, an employment agency for magicians—but it's hard to stay in business when magic is drying up. And then the visions start, predicting the death of the world's last dragon at the hands of an unnamed Dragonslayer. If the visions are true, everything will change for Kazam—and for Jennifer. Because something is coming. Something known as . . . Big Magic.
Stopped on page 78.
Fforde has some really great ideas but they can be difficult to fully embrace. You really have to be in the mood for slightly absurd fantasy for this book.
There was nothing wrong with the book but it really wasn't working for me right now. I may come back to the book at some point because I'm sure the book only gets stronger the further you get into the book.
The bottom line? I'm not in the mood for the story now.