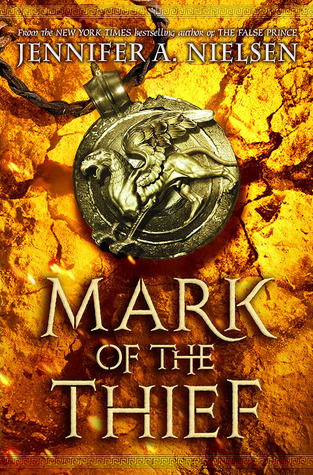 "Mark of the Thief (Mark of the Thief #1)" by Jennifer A. Nielsen
Genre: Young Adult Fiction, Fantasy
Source: Library
Summary from Goodreads:
When Nic, a slave in the mines outside of Rome, is forced to enter a sealed cavern containing the lost treasures of Julius Caesar, he finds much more than gold and gemstones: He discovers an ancient bulla, an amulet that belonged to the great Caesar and is filled with a magic once reserved for the Gods — magic some Romans would kill for.
Now, with the deadly power of the bulla pulsing through his veins, Nic is determined to become free. But instead, he finds himself at the center of a ruthless conspiracy to overthrow the emperor and spark the Praetor War, a battle to destroy Rome from within. Traitors and spies lurk at every turn, each more desperate than the next to use Nic's newfound powers for their own dark purposes.
In a quest to stop the rebellion, save Rome, and secure his own freedom, Nic must harness the magic within himself and defeat the empire's most powerful and savage leaders.
Just as I was hoping, this was a fun adventure! It's quick paced just like the Ascendance Trilogy.
I was hoping Nielsen would do more with the magic. The magic was just…magical. I didn't get a good sense of the hows and whys of it.
There was a good amount of politics in the book but it got to be a bit confusing. It was hard to figure out who is actually good and what everyone stood for.
This is a great YA book for older tweens just dipping their toes in the world of YA. It's fun and has a good story but there's not the "baggage" of romance and other mature teen things. It's also a great book for reluctant readers.
No instalove or love triangles here! There's really not even any romance to speak of. Nic was all about saving his sister and occasionally others who couldn't save themselves.
Rome was a nice setting.
The bottom line? Quite good. Looking forward to the other books.