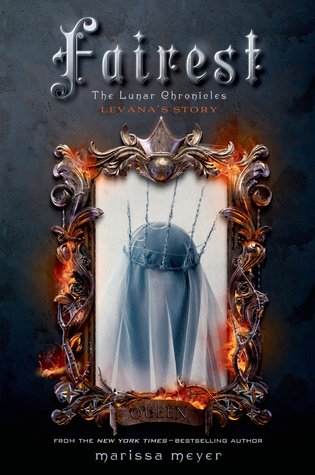 "Fairest (Lunar Chronicles #3.5)" by Marissa Meyer
Genre: Young Adult Fiction, Science Fiction, Fairy Tale Re-telling
Source: Library
Summary from Goodreads:
Mirror, mirror on the wall,
Who is the fairest of them all?
Fans of the Lunar Chronicles know Queen Levana as a ruler who uses her "glamour" to gain power. But long before she crossed paths with Cinder, Scarlet, and Cress, Levana lived a very different story – a story that has never been told . . . until now.
I was initially disappointed with the announcement of the release of this book. Primarily because it shifted Winter's publication date. My disappointment was short-lived once I started reading the book.
Fairest met and exceeded my expectations. Levana is without a doubt insane. Having read the other Lunar Chronicles books, I knew that. I never would have thought that I could feel bad or sympathetic towards her. Meyer quickly captured me into Levana's story and pulled at my heart-strings.
Levana made the journey from misguided young girl to power-hungry leader. You could really see how all of her choices and the circumstances of her life shaped who she is. I don't forgive her for the choices that she makes but I could see her reasoning for making those choices.
The pacing was pretty quick. You can take it with a really good reading session. It is a short novel but I wouldn't call it a novella.
The bottom line? Great. Don't dismiss this as an "extra" book in the series. I'd say it's a crucial book in the series.

Related articles