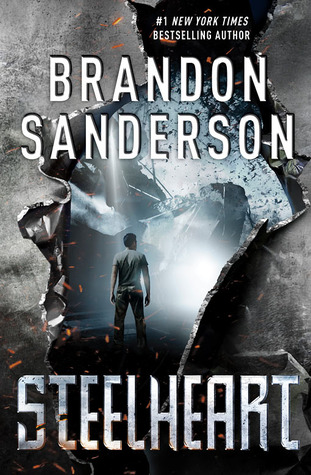 "Steelheart (Reckoners #1)" by Brandon Sanderson
Genre: Young Adult Fiction, Science Fiction, Dystopia
Source: Library
Summary from Goodreads:
Ten years ago, Calamity came. It was a burst in the sky that gave ordinary men and women extraordinary powers. The awed public started calling them Epics. But Epics are no friend of man. With incredible gifts came the desire to rule. And to rule man you must crush his wills.
Nobody fights the Epics…nobody but the Reckoners. A shadowy group of ordinary humans, they spend their lives studying Epics, finding their weaknesses, and then assassinating them.
And David wants in. He wants Steelheart – the Epic who is said to be invincible. The Epic who killed David's father. For years, like the Reckoners, David's been studying, and planning – and he has something they need. Not an object, but an experience.
He's seen Steelheart bleed. And he wants revenge.
Nice twist on comic books. We're so used to the idea of super heroes, we got to see the other side here. No heroes here to save people from the super villains that are the Epics. It's a great book for reluctant readers especially those interested in comic books. I liked that it didn't isolate those readers who aren't into comic books.
Nice bit of world building. Something happened that gave some people powers but these powers certainly aren't boring. There's no rhyme or reason to them. They're nothing alike and they don't have the same weaknesses. It was cool to see all the powers out there.
I liked that (mostly) normal humans are the ones standing up to the Epics.  The Reckoners are pretty cool. The twist with some of them was interesting. I'm not sure how I feel about it. David was cool enough. You could see and feel his motivation and determination. I liked how much work and research he put into the Epics. It gave the reader good information without being too infodump-y.
The bottom line? Great fun and great read for reluctant readers.