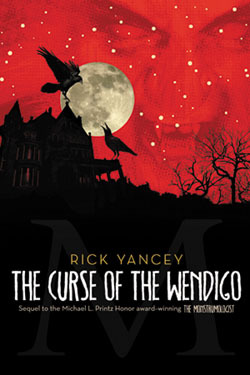 "The Curse of the Wendigo (The Monstrumologist #2)" by Rick Yancey
Genre: Young Adult Fiction, Horror
Source: Library
Other books in the Monstrumologist series
Summary from Goodreads:
While attempting to disprove that Homo vampiris, the vampire, could exist, Dr. Warthrop is asked by his former fiancé to rescue her husband from the Wendigo, a creature that starves even as it gorges itself on human flesh, and which has snatched him in the Canadian wilderness. Although Warthrop also considers the Wendigo to be fictitious, he relents and rescues her husband from death and starvation, and then sees the man transform into a Wendigo.
Can the doctor and Will Henry hunt down the ultimate predator, who, like the legendary vampire, is neither living nor dead, whose hunger for human flesh is never satisfied?
The creatures are still fascinating in this book. They challenge what the Doctor and Will Henry believe. I found it surprising that the Doctor was so sure that the Wendigo wasn't real. It seemed odd that's the line where it turns unbelievable.
Still rather gory. I thought listening would help but it was still pretty gross. I imagine I made some really weird faces while driving around listening.
The pacing was interesting. It almost felt like two stories: what happened in the wilderness and what happened back here in civilization. You'd think the worst of it would be over when they got back but that's not the case.
The audio was pretty great. I'll probably continue with the series by listening to the next 2 books.
The bottom line? Great listen!

Related articles