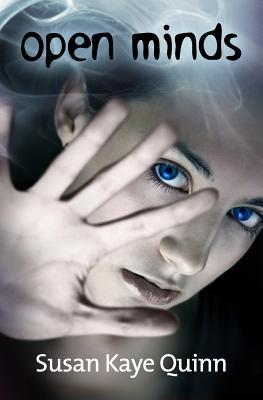 "Open Minds (Mindjack Trilogy #1)" by Susan Kaye Quinn
Genre: Young Adult Fiction, Science Fiction, Dystopia
Source: Freebie and also bought in a Boxset
Summary from Goodreads:
When everyone reads minds, a secret is a dangerous thing to keep.
Sixteen-year-old Kira Moore is a zero, someone who can't read thoughts or be read by others. Zeros are outcasts who can't be trusted, leaving her no chance with Raf, a regular mindreader and the best friend she secretly loves. When she accidentally controls Raf's mind and nearly kills him, Kira tries to hide her frightening new ability from her family and an increasingly suspicious Raf. But lies tangle around her, and she's dragged deep into a hidden world of mindjackers, where having to mind control everyone she loves is just the beginning of the deadly choices before her.
Blah. I hate love triangles but this one was horrible. You've got the well-meaning best friend who may be a bit too pushy. Then there's the popular guy who is like Kira. Except he's awful and constantly pushing Kira to do things she doesn't want to do and isn't comfortable with. I do not get how that's supposed to be attractive. He doesn't really get better.
Thankfully the story was interesting and the world building was cool to see. I'm okay with protagonists being special.  YA books kind of need that story of a character growing into themselves. Not only was Kira special in this book, she was the specialist of the specials. I found that a bit annoying.
Characters weren't anyone I really loved. I think some of the 'big' revelations should have been moved up a bit in the story. It felt a bit late in the game to introduce that in the first book. Plus we could have got more explanations with it moved up.
The bottom line? Entertaining read but I'm not motivated to read the other books.