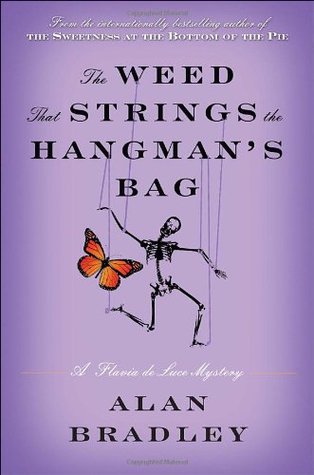 "The Weed That Strings the Hangman's Bag (Flavia de Luce #2)" by Alan Bradley
Genre: Adult Fiction, Mystery, Historical Fiction
Other Flavia de Luce books
Source: Library
Summary from Goodreads:
In 1950s English bucolic Bishop's Lacy, narrator Flavia de Luce 11, has a passion for chemistry and a genius for solving murders. Puppeteer Rupert Porson has his strings sizzled, his charming helper Nialla suspect. Astride trusty bicycle Gladys, she investigates Gibbet Wood madwoman, vicar, German pilot, and poisoned chocolates.
Flavia is getting a bit annoying. I could understand her getting involved with the mystery in the first book since it took place at her home and her father was getting the blame. It was really stretching it in this book. She's really teetering on the edge of becoming obnoxious.
I'm kind of waiting for someone to tell her off and mind her own business.
The mystery took a while to even begin! I was halfway through the book before Rupert was murdered.
The mystery was interesting enough but it seemed awfully convoluted.  It got intertwined with another mystery from years ago.
The story was okay. I wasn't totally engrossed in it.
The bottom line? Flavia's story is a good way to pass the time but not something I really loved.