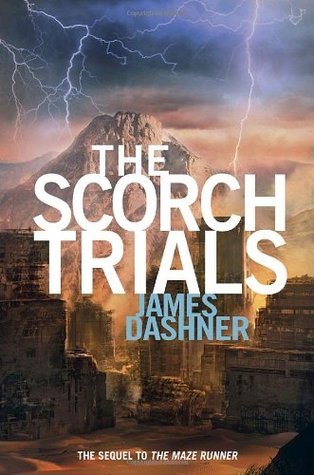 "The Scorch Trials (The Maze Runner #2)" by James Dashner
Genre: Young Adult Fiction,  Science Fiction, Dystopia
Source: Library
Summary from Goodreads:
Solving the Maze was supposed to be the end.
Thomas was sure that escape from the Maze would mean freedom for him and the Gladers. But WICKED isn't done yet. Phase Two has just begun. The Scorch.
There are no rules. There is no help. You either make it or you die.
The Gladers have two weeks to cross through the Scorch—the most burned-out section of the world. And WICKED has made sure to adjust the variables and stack the odds against them.
Friendships will be tested. Loyalties will be broken. All bets are off.
There are others now. Their survival depends on the Gladers' destruction—and they're determined to survive.
It's nice that this story wasn't a total rehashing of the first book. There is a lot of overlap though: Dangerous places. No knowledge of what's going on. Weird things are happening. WICKED is involved.
I'm not a fan of the new characters. Truthfully, I'm still not a fan of most of the characters. They still feel pretty boring. Thankfully the story is interesting enough to keep me reading even though I'm not really invested in the characters.
The story was very readable. I read the first book over 3 years ago but I was able to pick this up and run with it. You didn't want to put the book down.
I wish more questions had been answered but they weren't. I wasn't thoroughly annoyed with the book so that's a plus. I'm interested in seeing where the story is going to go.
The bottom line? Eh, let's see where book 3 takes us!