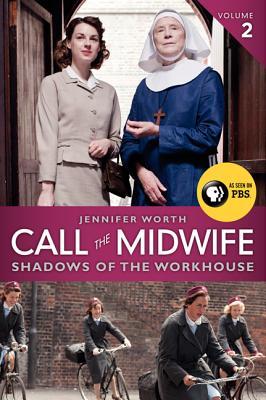 "Call the Midwife: Shadows of the Workhouse" by Jennifer Worth
Genre: Adult Non-Fiction, Biography
Other Call the Midwife books
Source: Library
Summary from Goodreads:
When twenty-two-year-old Jennifer Worth, from a comfortable middle-class upbringing, went to work as a midwife in the direst section of postwar London, she not only delivered hundreds of babies and touched many lives, she also became the neighborhood's most vivid chronicler. Woven into the ongoing tales of her life in the East End are the true stories of the people Worth met who grew up in the dreaded workhouse, a Dickensian institution that limped on into the middle of the twentieth century.
Orphaned brother and sister Peggy and Frank lived in the workhouse until Frank got free and returned to rescue his sister. Bubbly Jane's spirit was broken by the cruelty of the workhouse master until she found kindness and romance years later at Nonnatus House. Mr. Collett, a Boer War veteran, lost his family in the two world wars and died in the workhouse.
Though these are stories of unimaginable hardship, what shines through each is the resilience of the human spirit and the strength, courage, and humor of people determined to build a future for themselves against the odds. This is an enduring work of literary nonfiction, at once a warmhearted coming-of-age story and a startling look at people's lives in the poorest section of postwar London.
Sidenote: Don't read this book in public. You may end up crying…a lot.
I'm really pleased with how close the show has been to the books. Reading this  installment has let me step back to the series. It was great to learn more about these characters we only got an episode with. Worth was really able to convey how these people were. I felt like I knew them. I prayed for them, I hoped for them, and I cried for them.
My biggest complaint was the lack of babies and midwifery! It was good to learn about these people in relationship to Jenny. You saw how their stories affected her.
The bottom line? Needs more babies but it was still enjoyable!

Related articles