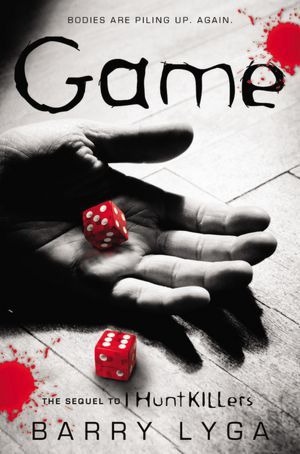 "Game (Jasper Dent #2)" by Barry Lyga
Genre: Young Adult Fiction, Mystery, Thriller
Summary from Goodreads:
 Billy grinned. "Oh, New York," he whispered. "We're gonna have so much fun."
I Hunt Killers introduced the world to Jazz, the son of history's most infamous serial killer, Billy Dent.
In an effort to prove murder didn't run in the family, Jazz teamed with the police in the small town of Lobo's Nod to solve a deadly case. And now, when a determined New York City detective comes knocking on Jazz's door asking for help, he can't say no. The Hat-Dog Killer has the Big Apple–and its police force–running scared. So Jazz and his girlfriend, Connie, hop on a plane to the big city and get swept up in a killer's murderous game.
Yay! No second story syndrome here. Game is another story sure to keep you on the edge of your seat.
You need to suspend your disbelief of bringing teenager to help to make the story work. I could understand it in the first book. It's in his town and there were major similarities to his father's case. This one is harder to believe. The mystery was really great. Things weren't adding up so you never knew what to think. The twistedness of the big reveal was interesting.
I wasn't a big fan of how stupid the characters were acting. Jazz knows how things work so to see him ignore and break laws was frustrating. Connie is a smart girl but man did she act dumb. What did she think she would accomplish? Her plan was so stupid and dangerous. With that said, my stomach still dropped when we finished her section of the book. Howie was quite stupid as well but I could almost understand his paranoia. Look at all the other crazy things happening. It's not out of the realm of possibility for Jazz's aunt to be a killer.
The bottom line? Great installment!