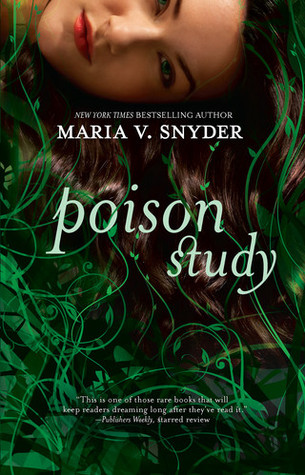 "Poison Study (Study #1)" by Maria V. Snyder
Genre: Adult/Young Adult Fiction, Fantasy
Source: Bought
Summary from Goodreads:
Choose: A quick death…Or slow poison…
About to be executed for murder, Yelena is offered an extraordinary reprieve. She'll eat the best meals, have rooms in the palace—and risk assassination by anyone trying to kill the Commander of Ixia.
And so Yelena chooses to become a food taster. But the chief of security, leaving nothing to chance, deliberately feeds her Butterfly's Dust—and only by appearing for her daily antidote will she delay an agonizing death from the poison.
As Yelena tries to escape her new dilemma, disasters keep mounting. Rebels plot to seize Ixia and Yelena develops magical powers she can't control. Her life is threatened again and choices must be made. But this time the outcomes aren't so clear…
Can't tell what time period the story took place in. I assumed it was a high fantasy taking place in an indeterminate medieval-ish time period. Just random things about the story made me think it was taking place closer to now.
I liked how this was a great blend of adult and young adult fiction. My library shelves it as adult but YA readers are sure to enjoy it.
I liked Yelena's progress. She had ability but she couldn't just use it. She had to practice but slowly got better with both fighting and magic.
Nice slow burn romance. Thankfully things didn't happen until the end. It let the focus stay on the story.
Likeable characters but needed more girls. We got some samples of awesome ladies but I was hoping to see more of them.
I liked the political drama going on. The magic was a fun surprise. Hopefully we'll see more in future books.
The bottom line? Very enjoyable high fantasy novel.

Related articles