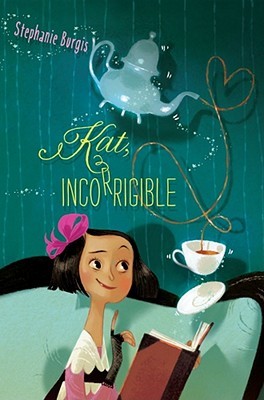 "Kat, Incorrigible (Kat, Incorrigible #1)" by Stephanie Burgis
Genre: Children's/Middle Grade Fiction, Fantasy, Historical Fiction
Source: Library
Summary from Goodreads:
Katherine Ann Stephenson has just discovered that she's inherited her mother's magical talents, and despite Stepmama's stern objections, she's determined to learn how to use them.
But with her eldest sister Elissa's intended fiancé, the sinister Sir Neville, showing a dangerous interest in Kat's magical potential; her other sister, Angeline, wreaking romantic havoc with her own witchcraft; and a highwayman lurking in the forest, even Kat's reckless heroism will be tested to the upmost.
If she can learn to control her new powers, will Kat be able to rescue her family and win her sisters their true love?
This was a delightful blend of historical fiction and fantasy. I've been on a Regency kick lately so this was a lovely addition to my reading pile. I loved how the time period and magic don't feel out of place with each other. You got a nice feel for how Kat and her sisters were stuck a bit with their lack of prospects. They don't have money and there's gossip about their mother. Their hands are tied with what they could do.
Kat was greatly enjoyable. She's spunky and smart. I loved how focused she was on trying to save everything. She's willing to do anything for her family. We open with her running away after chopping her hair off. I loved that she wanted to do everything for her family. She doesn't want anyone's help.  In the end, she relies on her sisters for help because she realizes how powerful family can be even if they annoy you.
The plot was a lot of fun. It was an interesting type of magic. I don't know much about Guardians but it was a nice addition. It made the story a bit different than other witch and magic stories out there.
Even though this is a series, I thought the story was wrapped up pretty nicely. You could absolutely read it as a stand alone (which I may end up doing).
The bottom line? Very solid MG adventure.