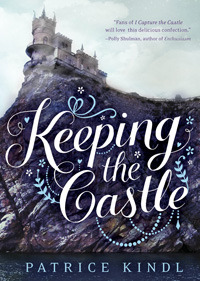 "Keeping the Castle" by Patrice Kindle
Genre: Young Adult Fiction, Historical Fiction
Source: Library
Summary from Goodreads:
Seventeen-year-old Althea is the sole support of her entire family, and she must marry well. But there are few wealthy suitors–or suitors of any kind–in their small Yorkshire town of Lesser Hoo. Then, the young and attractive (and very rich) Lord Boring arrives, and Althea sets her plans in motion. There's only one problem; his friend and business manager Mr. Fredericks keeps getting in the way. And, as it turns out, Fredericks has his own set of plans . . .
I picked this up because it was pitched for fans of Pride and Prejudice. I have to say that the recommendation was spot on. Much like P&P, Keeping the Castle was making a slight commentary on the time period. Althea was forced to marry well if she wanted to care for her mother and brother. She doesn't shy away from the fact. In fact, she may be a bit too blunt about it at times. Shortly after we meet her, she's telling her current suitor that he's so rich while he's telling her she's so beautiful.
The story definitely has P&P vibes with the annoying sisters and the wealthy and annoying suitors. It also reminded me a bit of Emma because Althea was bound and determined to play matchmaker whether it was a good idea or not.
I liked Althea. She was a smart heroine who really tried to care for those around her. For the most part, she was doing most things for those around her. Tricking her stepsisters in an effort to get them to pay for some of the upkeep of the castle. Keeping Miss Vincy's secrets. Even trying to play matchmaker for Miss Vincy. Althea was even willing to marry to save her family even if she didn't love the man.
The bottom line? Fun, fluffy historical fiction!

Related articles