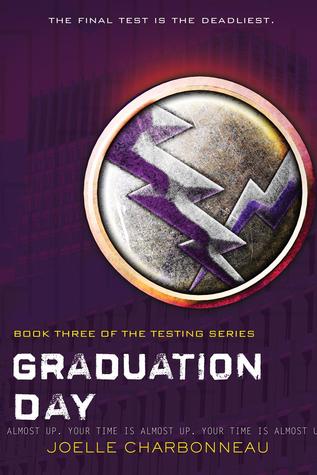 "Graduation Day (The Testing #3)" by Joelle Charbonneau
Genre: Young Adult Fiction, Science Fiction, Dystopia
Other The Testing books
Source: Library
Summary from Goodreads:
In a scarred and brutal future, The United Commonwealth teeters on the brink of all-out civil war. The rebel resistance plots against a government that rules with cruelty and cunning. Gifted student and Testing survivor Cia Vale vows to fight. But she can't do it alone. This is the chance to lead that Cia has trained for – but who will follow? Plunging through layers of danger and deception, Cia must risk the lives of those she loves – and gamble on the loyalty of her lethal classmates.
Special snowflake syndrome was abundant. Cia and her friends always seemed to know the right thing for the situation. Need a quick bomb? They have something. Need to make a potion of sorts to heal or kill you? They know how to do that as well. I know they're smart and I know they're all studying for their fields but it all seemed a bit much. None of that was realistic.
Once again, Cia is very special. The president gives her a giant task to save the country. Really? No one else could have done the job? Things are revealed and it turns out she's chosen for a special test. I couldn't believe any of it.
The other characters felt a bit lacking. They seemed to only be there to help Cia and her tasks. They didn't feel like independent people.
Ultimately, the story was pretty listenable. I looked forward to getting in the car so I could listen some more. I picked it up hoping that the resolution would be satisfying.
The bottom line? Largely disappointing.

My recommendation would be to read The Testing and walk away.