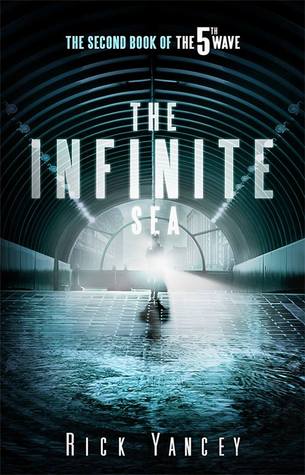 "The Infinite Sea (The 5th Wave #2)" by Rick Yancey
Genre: Young Adult Fiction, Science Fiction
Other books in the series
Source: Library
Summary from Goodreads:
How do you rid the Earth of seven billion humans? Rid the humans of their humanity.
Surviving the first four waves was nearly impossible. Now Cassie Sullivan finds herself in a new world, a world in which the fundamental trust that binds us together is gone. As the 5th Wave rolls across the landscape, Cassie, Ben, and Ringer are forced to confront the Others' ultimate goal: the extermination of the human race.
Cassie and her friends haven't seen the depths to which the Others will sink, nor have the Others seen the heights to which humanity will rise, in the ultimate battle between life and death, hope and despair, love and hate.
Bah! Yancey didn't label the POVs in this book either! That was really annoying. How hard is it to tell us who we are reading about?
The story kept me glued. A lot happened but I didn't feel like there was a ton of progress. That is pretty standard for a middle of a trilogy book.
Skipping from person to person can be handy. It was interesting to see something happen from another person's perspective. I'm glad to get to know the other kids better but I wasn't thrilled at being with Ringer for such a large amount of time. We learned some interesting things by being with her but I still think of this as Cassie and Evan's story so I wanted more time with them and their perspectives.
We had some mixed character growth in the story. Ringer, Poundcake, and Zombie get a chance to shine. They all had interesting back stories. Evan and Cassie ended up being rather boring for this installment. They were stupidly mushy. I don't recall them being like this in the previous book. I was really hoping they would have a more interesting story.
The bottom line? A bit of a middle of the road book but I'm looking forward to the next book!

Related articles