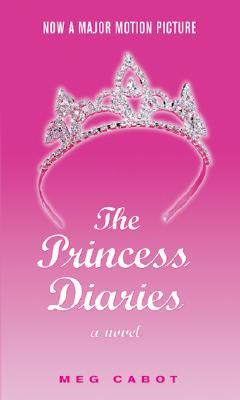 "The Princess Diaries (The Princess Diaries #1)" by Meg Cabot
Genre: Young Adult Fiction, Contemporary Fiction
Summary from Goodreads:
She's just a New York City girl living with her artist mom…
News Flash: Dad is prince of Genovia. (So that's why a limo meets her at the airport!)
Downer: Dad can't have any more kids. (So no heir to the throne.)
Shock of the Century: Like it or not, Mia Thermopolis is prime princess material.
Mia must take princess lessons from her dreaded grandmére, the dowager princess of Genovia, who thinks Mia has a thing or two to learn before she steps up to the throne.
Well, her father can lecture her until he's royal-blue in the face about her princessly duty–no way is she moving to Genovia and leaving Manhattan behind. But what's a girl to do when her name is Princess Amelia Mignonette Grimaldi Thermopolis Renaldo?

I was 11/12 when the first Princess Diaries movie came out. I really enjoyed the movie. It was cute and funny and fluffy. When I learned that the movie was based on books, I knew I wanted to read the books because surely the books were even better! Not quite. The movie was absolutely Disneyfied so reading the book was a bit of a shocker for a tween like me. I liked the books okay because I did read a few of them but stopped after a while because they were running a bit more mature than my age at the time. Since then I've been meaning to revisit the books because much has changed since then. I'm more well versed in YA books and I'm more mature. This was a perfect book for the Relive the Magic square of my Reading Outside the Box challenge!
Mia was pretty easy to relate to. She's not popular and a bit awkward. She's intelligent but still struggles with Algebra. She's passionate about her causes. She's a bit dramatic. All of that comes across as natural. I initially thought she sounded a bit over dramatic but  that can be easily attributed to the story coming 'directly' from her and teenagers can be a wee dramatic.
We're just meeting these characters so there's not much to them at the moment. Lily was harsh and kind of annoying. Mia's mom was a bit ditzy and a bit out there. Is she really selfish enough to date her daughter's teacher without thinking about how much it will bother Mia? Grandmére was frightening more than anything. Mia's father is not focused enough of Mia's well being for my taste. He knows what he's forcing her into and he's really not that kind about it. I'm sure they become well developed over the course of the series but they're quite lacking by the end of this book.
I still wasn't fully engrossed in the book. I liked it. It was funny and enjoyable. It just wasn't something I completely loved. It was missing a bit of charm. I know you shouldn't judge a book by its movie but it's hard not to! I still like the movie a lot more which I know is a bit unfair to the book.
The bottom line? It was okay!

I read this as part of my Reading Outside the Box Challenge. This was for my Relive the Magic square. See my progress here.
Related articles