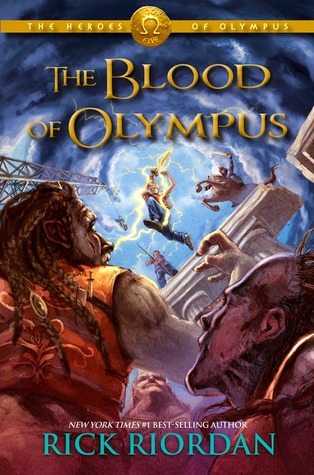 "The Blood of Olympus (The Heroes of Olympus #5)" by Rick Riordan
Genre: Young Adult/Middle Grade Fiction, Adventure, Fantasy
Source: Bought
Other Percy Jackson Books/ Other Heroes of Olympus Books
Summary from Goodeads:
Though the Greek and Roman crewmembers of the Argo II have made progress in their many quests, they still seem no closer to defeating the earth mother, Gaea. Her giants have risen—all of them—and they're stronger than ever. They must be stopped before the Feast of Spes, when Gaea plans to have two demigods sacrificed in Athens. She needs their blood—the blood of Olympus—in order to wake.
The demigods are having more frequent visions of a terrible battle at Camp Half-Blood. The Roman legion from Camp Jupiter, led by Octavian, is almost within striking distance. Though it is tempting to take the Athena Parthenos to Athens to use as a secret weapon, the friends know that the huge statue belongs back on Long Island, where it "might" be able to stop a war between the two camps.
The Athena Parthenos will go west; the Argo II will go east. The gods, still suffering from multiple personality disorder, are useless. How can a handful of young demigods hope to persevere against Gaea's army of powerful giants? As dangerous as it is to head to Athens, they have no other option. They have sacrificed too much already. And if Gaea wakes, it is game over.
I like the maturity of the book. There was lots of action. There were lots of hard choices to be made. Riordan turned down the humor a bit. The book was still funny but everyone is older and dealing with some really big choices. Humor shouldn't be the forefront of the story right now. He managed to handle the change in tone pretty well.
Gaea's defeat seemed a bit disappointing. I'm glad she's not going to be a problem but it seemed almost too easy. We spent five books building up to this massive fight and everything ends in a few chapters. Then we skipped the initial mess because we moved onto the next day? Eh. I wanted something for like The Last Olympian where it's a big fight and we lose people. Life and war is really messy so why not have that in the book?
Good conclusion. I liked that everyone got a happy enough ending. I have mixed feelings about the death situation. We had be expecting the death of a character for a while so we were preparing ourselves for that. It would be hard to deal with because we like the characters. Not to mention, killing a main character would have been a very mature thing for the book. It would have been like Riordan acknowledging that his readers are older and could handle something like that. The ending felt like a bit of a cop out. I am glad that no main characters died but I think he missed an opportunity there.
I was disappointed that there were no Percy or Annabeth chapters. We've been with them the longest. Shouldn't we hear from them in the last book of their story? I know it's not exclusively their story but still we should have heard from all seven kids right? It was interesting to get non-prophecy characters POVs mixed in.
The bottom line? Mostly good ending to the series.

Related articles