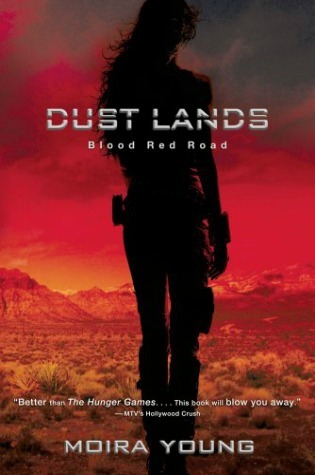 "Blood Red Road (Dust Lands #1)" by Moira Young
Genre: Young Adult Fiction, Science Fiction
Other Dust Lands books
Source: Bought
Summary from Goodreads:
Saba has spent her whole life in Silverlake, a dried-up wasteland ravaged by constant sandstorms. The Wrecker civilization has long been destroyed, leaving only landfills for Saba and her family to scavenge from. That's fine by her, as long as her beloved twin brother Lugh is around. But when four cloaked horsemen capture Lugh, Saba's world is shattered, and she embarks on a quest to get him back. 
 
Suddenly thrown into the lawless, ugly reality of the outside world, Saba discovers she is a fierce fighter, an unbeatable survivor, and a cunning opponent. Teamed up with a handsome daredevil named Jack and a gang of girl revolutionaries called the Free Hawks, Saba's unrelenting search for Lugh stages a showdown that will change the course of her own civilization. 
For the most part the story is pretty thrilling. I don't love how it feels like a never ending quest though. I hate when adventures take forever and  you feel like you're going nowhere plot wise. The story dances around with the idea. Lots of running around with not much progress.
I personally despise when authors use a very strong dialect with a story. It's incredibly jarring for me. Unfortunately, Young does this throughout the whole story. As if that wasn't enough, the story was written as if Saba was telling me the entire story. That means there's a lot of "I says" and "he says". Not much variation there. AND there are no quote marks in the entire book. I found all of those style things incredibly bothersome. Yes, it gives me a feel for Saba and the world she lives in but it bothers me more than it paints a good picture.
I love the story of Saba's relationship with her siblings. Her relationship with Lugh is the strongest because he is her twin. She's willing to do anything to get him back. I love that she follows through with that idea because she goes through so much for him. Her relationship with Emmi is a lot rougher. I can understand why she doesn't like Emmi and you see how rough she is with her. You also see how they grow closer through the adventure though because they came close to loosing each other. The sibling love between them doesn't feel smothering but rather a good journey.
I liked that the 'romance' didn't take over the story. I even hesitate to call it a romance because of how on the back burner it was. It felt more like a really strong friendship with the possibility of more at some point. That was refreshing to see. I also appreciated how the story wrapped up pretty nicely. You could very easily stop reading the series here because there were no loose ends. Of course, there are other books so you could continue reading if you choose to.
The bottom line? Exciting adventure if you can handle the rough narration style.