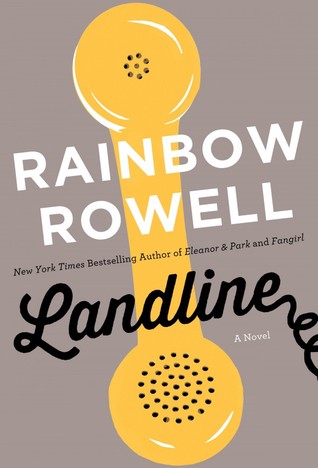 "Landline" by Rainbow Rowell
Genre: Adult Fiction, Contemporary Fiction, Romance
Source: Library
Summary from Goodreads:
Georgie McCool knows her marriage is in trouble. That it's been in trouble for a long time. She still loves her husband, Neal, and Neal still loves her, deeply — but that almost seems beside the point now.
Maybe that was always beside the point.
Two days before they're supposed to visit Neal's family in Omaha for Christmas, Georgie tells Neal that she can't go. She's a TV writer, and something's come up on her show; she has to stay in Los Angeles. She knows that Neal will be upset with her — Neal is always a little upset with Georgie — but she doesn't expect to him to pack up the kids and go home without her.
When her husband and the kids leave for the airport, Georgie wonders if she's finally done it. If she's ruined everything.
That night, Georgie discovers a way to communicate with Neal in the past. It's not time travel, not exactly, but she feels like she's been given an opportunity to fix her marriage before it starts . . .
Is that what she's supposed to do?
Or would Georgie and Neal be better off if their marriage never happened?
I really liked the shake up of the roles within Georgie's family. A stay-at-home dad felt so natural for their family. Once you stepped into their past and saw how it led to that point, you couldn't help but want it that way. I really loved how Neal didn't fall into the role or resent Georgie for 'making' him be a stay-at-home dad. He really seemed to love all aspects of it (aside from Georgie's long hours). With Georgie, I was able to see how she eased into the crazy hours and how they took over her life without her realizing it.
I generally steer clear of adult fiction primarily because I don't 'adult' problems very interesting. I don't want to read about someone juggling work, kids, and a love life.  That just doesn't appeal to me at this point in my life. Rowell was able to get me interested in Georgie's problems. I felt her loneliness.  I felt the pain of her husband avoiding her. I felt the frustratedness of not being able to do everything on her plate. We don't really hear from Neal but I was able to understand where his frustrations come from. It was good to see a bit of fault on both of their sides.
I love the subtlety of the magic phone. It doesn't seem too weird or out of place. I really enjoyed the mild time travel element and trying to figure out if this is something new or it's already happened. The flashbacks filling us in on Georgie and Neal's relationship was nice. We could see how their relationship evolved over time and now their love changed.
The bottom line? Quite enjoyed it!

Related articles