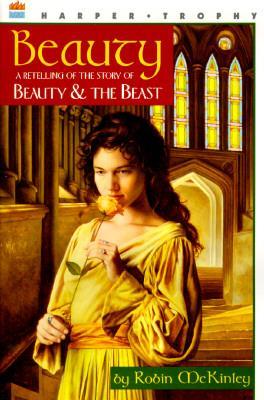 "Beauty (Folktales #1)" by Robin McKinley
Genre: Young Adult Fiction, Fantasy, Fairy Tale Retelling
Source: Library
Other books in the Folktales series
Summary from Goodeads:
A strange imprisonment…
Beauty has never liked her nickname. She is thin and awkward; it is her two sisters who are the beautiful ones. But what she lacks in looks, she can perhaps make up for in courage.
When her father comes home with the tale of an enchanted castle in the forest and the terrible promise he had to make to the Beast who lives there, Beauty knows she must go to the castle, a prisoner of her own free will. Her father protests that he will not let her go, but she answers, "Cannot a Beast be tamed?"
I've never read the original fairy tale but I have seen the Disney movie. I liked how the book was similar to that (I have no idea if those elements were in the fairy tale as well). Everyone in the castle is enchanted with Beast. He was a wonderful library which Beauty, as a big reader, appropriates. Those subtle similarities were greatly appreciated.
I liked that Beauty wasn't who you thought she'd be. She's not beautiful and she's not graceful. It kind of reminded me of Golden by Cameron Dokey by challenging your idea of the story. Beauty is a number of other things though: smart, a reader, courageous, a horse rider, etc.  Beauty does eventually grow into herself and her beauty though. All of that makes for a well rounded 'princess'.
I loved that there was a good focus on Beauty and her family from 'before'. It gets you invested with her family. You see how much they love each other and that she had a good upbringing. It also helps you understand why Beauty made the decision to go to the castle. She was doing what she could for her family.
Beauty and the Beast can be a hard tale to tell (and adapt) because of the weirdness going on. Why would someone fall in love with the person that took them away from their family and life? I could almost understand why with this adaption. Beast is patient and kind. He is always respectful of Beauty and her space. I liked all that.
The bottom line? Fairly traditional retelling with a few good twists and additions.

Related articles