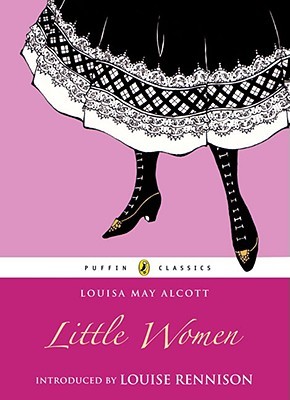 "Little Women (Little Women #1)" by Louisa May Alcott
Genre: Children's/Young Adult Fiction, Classic
Other Little Women books
Source: Library
Summary from Goodreads:
Meg is the eldest and on the brink of love. Then there's tomboy Jo who longs to be a writer. Sweet-natured Beth always puts others first, and finally there's Amy, the youngest and most precocious. Through sisterly squabbles, their happy times and sad ones too, the sisters discover that growing up is sometimes very hard to do.
I was surprised at how much I enjoyed this book. I thought I might like it but wasn't sure. Even though the book is quite large, I managed to devour it pretty quickly. I'm slowly discovering that children's classics are some of my favorites. This story may rank up there towards the top with Anne of Green Gables and A Little Princess for me.
The story was definitely old-fashioned and sweet. Who knows if girls really acted like this but it was nice to imagine this slice of life for a while. I liked that even though there were a lot of characters it never felt overwhelming. We got chapters focusing on all the sisters so I didn't feel like any of them were too neglected.
There's quite a cast of characters. Meg was quite grown up and paved the way to adulthood for the girls. Jo was the one I know many readers identified with. She's spunky and tomboyish. Beth was so sweet and loving. Amy fulfilled her duty as the youngest to be a bit of a handful but a loveable one. Laurie managed really secure a role as a brother with the March girls. I could really see how he cared for all the girls and still managed to have a 'special' relationship with each one.
I loved seeing the girls grow up from their teen years to real adulthood. It was fantastic to see how they changed over time and really grew into themselves. Even their relationships with each other changed over time. Amy may have once been the annoying little sister who tagged along but she eventually became a good friend and peer to her sisters.
My copy was a chunkster coming in just shy of 800 pages. Apparently my copy came with part 2 of the story, Good Wives, which I didn't know when I bought the book. This worked out well for me because of course I wanted to see more of the March family. It was good to see the girls and Laurie as adults. It was enjoyable but I still loved Little Women's story more. Plus I wasn't totally happy with how everything ended. [Poor Beth dying, Laurie and Amy marrying each other, and Jo marrying a much older man.] All of that just seemed a bit…odd.
The bottom line? I shouldn't have let this sit on my shelf for so long. Fantastic book!

I read this as part of my Reading Outside the Box Challenge. This was for my Gathering Dust square. See my progress here.