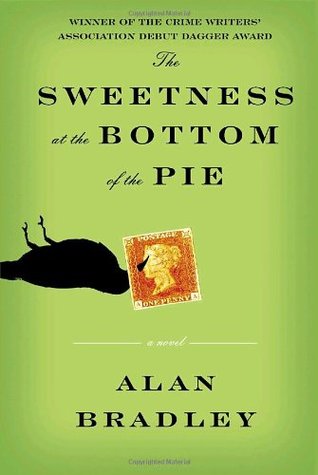 "The Sweetness at the Bottom of the Pie (Flavia de Luce #1)" by Alan Bradley
Genre: Adult Fiction, Mystery, Historical Fiction
Other Flavia de Luce books
Source: Library
Summary from Goodreads:
Flavia de Luce, 11, is an aspiring chemist with a passion for poison. In the summer of 1950, inexplicable events strike Buckshaw, her decaying mansion home. A dead bird is on the doorstep, a postage stamp on its beak. Hours later, Flavia finds a man dying in the cucumber patch. His last words must save her father imprisoned for his murder.
This was just the charming story I was hoping for. It was a nice, entertaining British mystery. I liked the cozy feel of the story. You could just imagine the town and its residents. I liked that it really wasn't a simple mystery. There's the big mystery of who killed the man in the front lawn of Buckshaw. Then there are the smaller mysteries of who he is, how did he know Flavia's father, and other things that I won't spoil for you. It was a lot going on but it certainly made the story interesting.
Like everyone will tell you, Flavia is fantastic. She's quite bright but my favorite part about her was her wit and sassiness. She wasn't sarcastic all the time like how teenagers are now but it comes through in small doses. It was just enough to make you chuckle. It was nice because it felt realistic. It's second nature to her so it would sometimes slip through at inopportune times like when talking to an Inspector. Oops.
While I liked Flavia you need to suspend some disbelief to really make the story work. It's really hard to picture her as an 11 year old. She rarely speaks like one (excepting when mouthing off to her sisters). I can understand that she's intelligent but I would have liked to see her act more like an 11 year old. Then there's the whole thing of Flavia doing all this research and investigating. I would have thought an adult would have reined her in a bit. I know giving a kid freedom makes for a better story but it was a bit odd for me to be fully on board with.
The bottom line? Charming mystery! I'm not going to rush out and pick up the next installment but I will pick it up when I'm in the mood for a good mystery.

I read this as part of my Reading Outside the Box Challenge. This was for my Mystery square. See my progress here.
Related articles