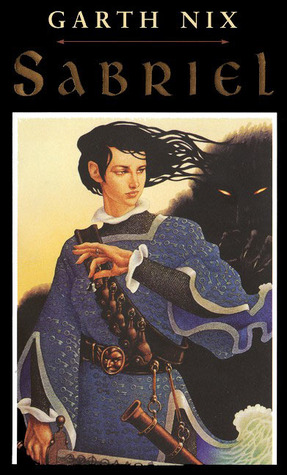 "Sabriel (Abhorsen #1)" by Garth Nix
Genre: Young Adult Fiction, Fantasy
Other Abhorsen books
Source: Bought
Summary from Goodreads:
Sent to a boarding school in Ancelstierre as a young child, Sabriel has had little experience with the random power of Free Magic or the Dead who refuse to stay dead in the Old Kingdom. But during her final semester, her father, the Abhorsen, goes missing, and Sabriel knows she must enter the Old Kingdom to find him. She soon finds companions in Mogget, a cat whose aloof manner barely conceals its malevolent spirit, and Touchstone, a young Charter Mage long imprisoned by magic, now free in body but still trapped by painful memories. As the three travel deep into the Old Kingdom, threats mount on all sides. And every step brings them closer to a battle that will pit them against the true forces of life and death—and bring Sabriel face-to-face with her own destiny.
With Sabriel, the first installment in the Abhorsen trilogy, Garth Nix exploded onto the fantasy scene as a rising star, in a novel that takes readers to a world where the line between the living and the dead isn't always clear—and sometimes disappears altogether.
Review
Stopped at 45%
I just really, really wasn't feeling this book. Sabriel reads really young to me. I didn't really picture her as 18. I saw her closer to 14 or  younger.
The magic is kind of odd. It was a weird combination of infodump and not enough information. I don't need to know the names and histories of the bells she uses but I'd like to have an idea of what's going on. I just couldn't follow the story. Then there was the fact that I wasn't drawn into the story at all so I didn't care enough to reread (or read slower) to figure out what was going on.
I must have completely overlooked the necromancy in the summary because that was a bit of a shock for me. I'm not a fan of that in stories.
The bottom line? I wasn't really impressed. I may revisit the book at some point since I did buy it.

Related articles