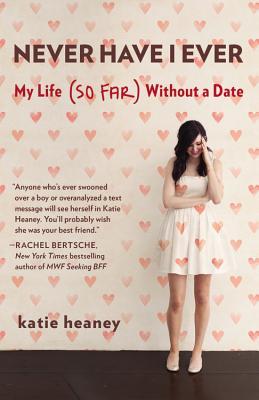 "Never Have I Ever: My Life (So Far) Without a Date" by Katie Heaney
Genre: Adult Non-Fiction, Memoir
Source: Library
Summary from Goodreads:
"I've been single for my entire life. Not one boyfriend. Not one short-term dating situation. Not one person with whom I regularly hung out and kissed on the face."
So begins Katie Heaney's memoir of her years spent looking for love, but never quite finding it. By age 25, equipped with a college degree, a load of friends, and a happy family life, she still has never had a boyfriend … and she's barely even been on a second date.
Throughout this laugh-out-loud funny book, you will meet Katie's loyal group of girlfriends, including flirtatious and outgoing Rylee, the wild child to Katie's shrinking violet, as well as a whole roster of Katie's ill-fated crushes. And you will get to know Katie herself — a smart, modern heroine relaying truths about everything from the subtleties of a Facebook message exchange to the fact that "Everybody who works in a coffee shop is at least a little bit hot."
Funny, relatable, and inspiring, this is a memoir for anyone who has ever struggled to find love, but has also had a lot of fun in the process.
-Very easy going style of writing. It really does feel like a friend talking to you.
-Some of her descriptions of elementary and middle school were so spot on. I definitely had some embarrassing flashbacks.
– The story was a bit all over the place. It more or less was in chronological order but I was hoping for a bit more structure.
-Here's the thing, this book is pretty much my story as well. I thought Katie captured the mild insanity that comes with perpetual singleness pretty well. You kind of secretly wish bad things about your friends who flaunt relationships in front of you even though you love them. You will obsess and dream about a crush until he might actually like you back and then you, of course, freak out and run off. I know those all sound crazy from the outside but they're pretty accurate.
-The story was nice because it was entertaining but it was also nice to be reassured that you're not the only completely and totally single person out there (even if it feels like it).
-I kind of wish there was more advice or reassurances about being single. You will constantly hear from others (who most of the time are happily committed) that you will find "the one" and yada, yada, yada. It's nice advice but it's hard to believe them. It's really rare to get help from someone who is in a very similar situation as you.
The bottom line? Entertaining read!

Related articles