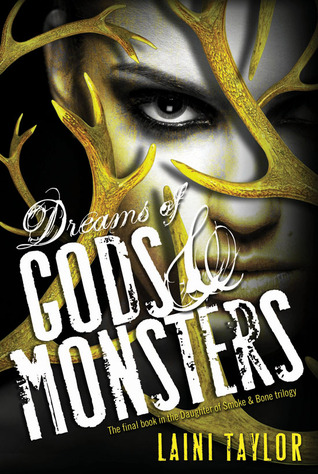 "Dreams of Gods and Monsters (Daughter of Smoke and Bone #3)" by Laini Taylor
Genre: Young Adult Fiction, Fantasy
Other Daughter of Smoke and Bone books
Source: Library
Summary from Goodreads:
By way of a staggering deception, Karou has taken control of the chimaera rebellion and is intent on steering its course away from dead-end vengeance. The future rests on her, if there can even be a future for the chimaera in war-ravaged Eretz.
Common enemy, common cause.
When Jael's brutal seraph army trespasses into the human world, the unthinkable becomes essential, and Karou and Akiva must ally their enemy armies against the threat. It is a twisted version of their long-ago dream, and they begin to hope that it might forge a way forward for their people.
And, perhaps, for themselves. Toward a new way of living, and maybe even love.
But there are bigger threats than Jael in the offing. A vicious queen is hunting Akiva, and, in the skies of Eretz … something is happening. Massive stains are spreading like bruises from horizon to horizon; the great winged stormhunters are gathering as if summoned, ceaselessly circling, and a deep sense of wrong pervades the world.
What power can bruise the sky?
From the streets of Rome to the caves of the Kirin and beyond, humans, chimaera and seraphim will fight, strive, love, and die in an epic theater that transcends good and evil, right and wrong, friend and enemy.
At the very barriers of space and time, what do gods and monsters dream of? And does anything else matter?
Unfortunately this book had the same problem as Days of Blood and Starlight. The beginning is almost painfully slow. The second half is much better. It's okay for those who stick with the book but I can imagine people might abandon the book for the slow start. It's a shame since the book(s) are worth finishing.
I really loved seeing the human world compared with the 'other' world. Knowing what's going on in Eretz is scary but seeing what's going on here on Earth is even scarier. It really drives the fantasy home. Mainly because what we see happening here on Earth is plausible. I would have loved seeing snippets of the human world's reactions to things in the other books as well.
As usual, Taylor's language is wonderful. It's SO beautiful. I don't usually enjoy flowery language in my books. There's nothing wrong with it, I just prefer my books to get to the point. The unfortunate side to Taylor's language is it can be difficult to read and comprehend what's happening. Maybe it's just me but towards the end I had a hard time keeping up with what was happening. There's so much going on. It can be difficult to keep up with who everyone is and what was going on in their stories. (I seriously need a good straightforward recap of the story to fully comprehend what I just read).
Difficulties aside, the story was really, really lovely. The story covered a lot of ground and did it pretty well. I never could have imagined peace but somehow it worked. Taylor was able allow characters to grow and evolve on their own so the changes all felt very natural.
The bottom line? Lovely ending to a great series.

I read this as part of my Reading Outside the Box Challenge. This was for my Read a Chunkster square. See my progress here.
Related articles