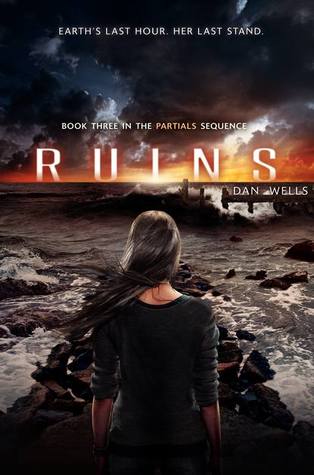 "Ruins (Partials #3)" by Dan Wells
Genre: Young Adult Fiction, Science Fiction
Source: Library
Other books in the Partials series
Summary from Goodreads:
Kira, Samm, and Marcus fight to prevent a final war between Partials and humans in the gripping final installment in the Partials Sequence, a series that combines the thrilling action of The Hunger Games with the provocative themes of Blade Runner and The Stand.
There is no avoiding it—the war to decide the fate of both humans and Partials is at hand. Both sides hold in their possession a weapon that could destroy the other, and Kira Walker has precious little time to prevent that from happening. She has one chance to save both species and the world with them, but it will only come at great personal cost.
Ruins (and to a certain extent Partials and Fragments) really captured how problems aren't just black and white. This was never really just Humans versus Partials.  Yes, there were Humans who just wanted to save their skins. Yes, there were Partials who just wanted to save their skins. There were also people who thought the two species could live together. Then there was the big question: are you really willing to exterminate the other group even though that will mean your death? I liked all the exploration of that gray area.
All of those perspectives were really nicely examined because of all the POVs going on. It did make things a bit confusing but you did get a clear picture of everyone's investments. I wouldn't say it made everyone entirely likeable but it certainly made everyone understandable.
I thought Ruins did a good job of finishing off the world building and answering questions. All the POVs were a bit all over the place but things started to come together. From what I could tell, all the loose ends were tied up.
Can we talk about the romance for a second? I thought it was well done in this book. Kira's got two love interests but they never interfere with what needs to be done. She knows how to prioritize. May I present my favorite quote from the book?
She would worry about Samm and Marcus when she wasn't running for her life.
That's how romance needs to be done in YA (or at least in sci-fi/fantasy when huge things are at stake). Once things were 'solved', she then wrestled with the idea of picking one boy over the other. That was incredibly refreshing to read about.
The bottom line? It was a good wrap up to a very interesting sci-fi series.

Related articles