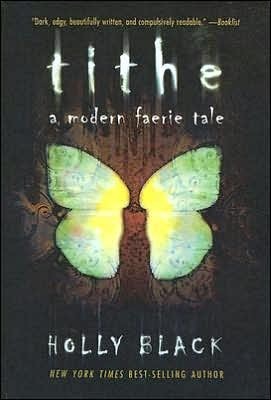 "Tithe (Modern Faerie Tales #1)" by Holly Black
Genre: Young Adult Fiction, Fantasy
Other Modern Faerie Tales books
Source: Gift
Summary from Goodreads:
Sixteen-year-old Kaye is a modern nomad. Fierce and independent, she travels from city to city with her mother's rock band until an ominous attack forces Kaye back to her childhood home. There, amid the industrial, blue-collar New Jersey backdrop, Kaye soon finds herself an unwilling pawn in an ancient power struggle between two rival faerie kingdoms – a struggle that could very well mean her death.
This was really odd. My biggest problem was it felt like I plopped down in the middle of a story. With most stories of a protagonist finding out they're not who they think they are, there's some transition. We see them in the their normal life, they get the news, and then they're getting used to the new life. Not in Tithe. There was very little separation from the old life and the new life. I honestly had to triple check online that Tithe was the first book because of how confusing things were. I guess Kaye has always known about faeries so  there wasn't as much explanation for them as I would have wanted. She finds out she's a faerie but once again not enough explanation for me because the story is already going full force at that point.
I've never read any books with faeries in it before so all this was new to me. Tithe wasn't bad or anything but I really didn't "get" the faerie mythos. I just kind of found it to be dull and boring. Like I said above, things were a bit confusing. I got to the point that I just kept reading even if I didn't understand or follow what was going on. I'm probably not read any more faerie books in the future.
The characters were kind of on the flat side and boring. You've got Kaye's faerie friends who are supposedly important? Yeah….I don't think I could tell you a single thing about them. Roiben was just mysterious? I didn't find Kaye to be very likable. I just finished the book and I'm struggling to think of anything to say about the characters and I'm left drawing a blank.
This was one of the most mature YA books I've ever read. Those first 100 pages really through me off with all the language, drinking, and smoking. Thankfully, that was confined to the beginning of the book but it still left a bad taste in my mouth for the whole book.
The bottom line? I discovered I'm not a faerie person so I didn't enjoy it. Faerie fans would most likely enjoy the book though!

Related articles