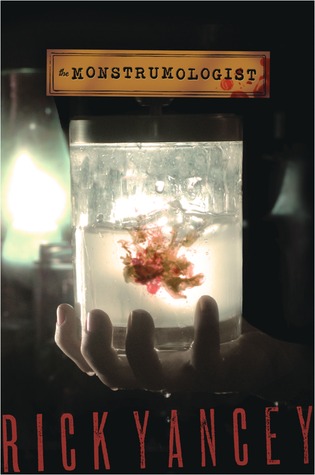 "The Monstrumologist (The Monstrumologist #1)" by Rick Yancey
Genre: Young Adult Fiction, Horror
Source: Library
Other books in the Monstrumologist series
Summary from Goodreads:
These are the secrets I have kept. This is the trust I never betrayed. But he is dead now and has been for more than forty years, the one who gave me his trust, the one for whom I kept these secrets.
The one who saved me…and the one who cursed me.
So begins the journal of Will Henry, orphaned assistant to Dr. Pellinore Warthrop, a man with a most unusual specialty: monstrumology, the study of monsters. In his time with the doctor, Will has met many a mysterious late-night visitor, and seen things he never imagined were real. But when a grave robber comes calling in the middle of the night with a gruesome find, he brings with him their most deadly case yet. Critically acclaimed author Rick Yancey has written a gothic tour de force that explores the darkest heart of man and monster and asks the question: When does a man become the very thing he hunts?
This is not my normal cup of tea at all. It's really out there for me. I tend to enjoy books that use monsters (or paranormal creatures) but only if they use them in the way they're meant to be used. Not romanticized but feared and hated. The Monstrumologist does that perfectly.
The writing of the book is a bit different than YA books that I normally read. To me, YA writing tends to be easier to read. Yes, it can deal with complex topics and do it a mature way but stylistically it's pretty simple reading. This was a bit more complicated than typical YA books. It reads more like adult fiction. It even had difficult words thrown in! I liked that it was versatile. A teen could easily read this book but their mother/father could pick it up as well and feel perfectly comfortable with it.
Anastasia warned me that the book was scary and gory. Thank you for the warning! I did not prepare myself for how bad it was. I'm  bit squeamish so the very descriptive scenes were almost enough to make me quit reading. If it were a movie, I'd have my eyes closed way too often. It definitely walked that line of being too much for a YA book. [I might be biased though because I'm a total weenie when it comes to this type stuff.] I realize that monsters are pretend. They don't really exist but this book presents them in a way that makes them seem real. The cold, scientific nature in some of the story adds to the horror. You almost start believing that these creatures are out there.
I had a bit of a difficult time liking the characters.  You would think I'd like Will Henry since we know him the best. We're hearing the story from him. I guess more than anything I felt sorry for him. His parents died and he's "stuck" with the doctor. Overall, I wasn't a fan of the doctor. Even though he's a fictional character, he definitely had his walls up so you couldn't get to know him. The few moments of genuine love he shows to Will Henry made his character a bit likable.
The bottom line? It's a decent read but only if you're able to handle the gore and horror of the story. Not for the squeamish.
Related articles