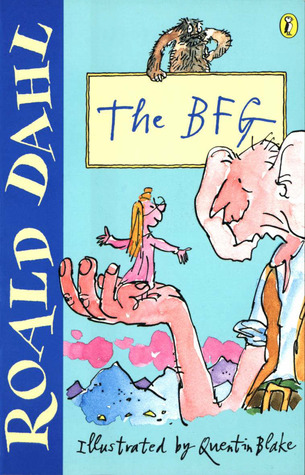 "The BFG" by Roald Dahl
Genre: Children's Fiction, Fantasy
Source: Gift
Summary from Goodreads:
Sophie discovers that giants not only exist, but that there are a great many of them who like to guzzle and swallomp nice little chiddlers. But not the Big Friendly Giant. He and Sophie cook up an ingenious plot to free the world of troggle-humping — forever.
For some reason, I thought I've read this before but after I started reading I quickly realized none of it sounded familiar! Ha. Glad I didn't put off reading it for any longer.
The BFG is perfectly Dahl. It's charming and sweet with a very healthy dash of non-sense. The giant (who has never been to school) has some trouble speaking. His language is quite silly and delightful. Dahl invents all sorts of nonsense words and silly turns of phrases for the giant. It's absolutely one of those books that should be read aloud given the opportunity.
Here is an excerpt:
"Do you like vegetables?" Sophie asked, hoping to steer the conversation towards a slightly less dangerous kind of food.
"You is trying to change the subject," the Giant said sternly. "We is having an interesting babblement about the taste of the human bean. The human bean is not a vegetable.
and another for good measure:
"Meanings is not important", said the BFG. "I cannot be right all the time. Quite often I is left instead of right."
Normally bad grammar annoys me but in this story it's a big endearing. Not to mention I could "hear" the giant speaking in my head while reading.
The story itself is fun. I always enjoy the story about the "weird" one of a group. In this case it's a tiny giant who doesn't eat people. Instead he gallops through the country side catching dreams and blowing them into the bedrooms of children. You gotta admit that's a bit silly.
Like many of Dahl's other books there is an underlying message. In this case, out of all the 'animals' on Earth (including giants), humans are the only ones who kill each other. Thankfully, Dahl knows how to present the message only so it gives you something to think about. He doesn't beat you over the head with it.
The bottom line? It's yet another wonderfully delightful book from Dahl.
This book was read as part of my Roald Dahl Challenge.
Please feel free to join in!
Related articles