"The False Princess" by Eilis O'Neal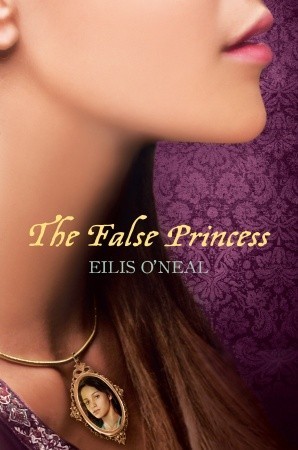 Genre: Young Adult Fiction, Fantasy, Adventure
Source: Anastasia!
Summary from Goodreads:
Princess and heir to the throne of Thorvaldor, Nalia's led a privileged life at court. But everything changes when it's revealed, just after her sixteenth birthday, that she is a false princess, a stand-in for the real Nalia, who has been hidden away for her protection. Cast out with little more than the clothes on her back, the girl now called Sinda must leave behind the city of Vivaskari, her best friend, Keirnan, and the only life she's ever known.
Sinda is sent to live with her only surviving relative, an aunt who is a dyer in a distant village. She is a cold, scornful woman with little patience for her newfound niece, and Sinda proves inept at even the simplest tasks. But when Sinda discovers that magic runs through her veins – long-suppressed, dangerous magic that she must learn to control – she realizes that she can never learn to be a simple village girl.
Returning to Vivaskari for answers, Sinda finds her purpose as a wizard scribe, rediscovers the boy who saw her all along, and uncovers a secret that could change the course of Thorvaldor's history, forever.
A dazzling first novel, The False Princess is an engrossing fantasy full of mystery, action, and romance.
Princesses! Wizards! Prophecies! Best friends! Secrets! Magic! Lies! In theory, this book had most everything I look for in a fun fantasy book so obviously I was excited to read the book. While reading I found the book to be a bit on the blah side. It took me quite a while to really get into the story.
Let me see if I can explain it… The story itself was really fascinating. Living your entire life as one person only to find out it's a lie then readjusting to your new life is a good story. Then the author takes it even deeper than that which is an even better story. I guess it was the execution of the story that fell a bit flat. I wanted to know more about the story but wasn't interested in reading for more than a few chapters at a time.
The author really hit her stride at the end of the story. For the last ~100 or so pages I was finally engrossed in the story. The end definitely saved the book for me. There is a bit of romance sprinkled in the story but it's done perfectly. Just enough to make it sweet but not enough to turn people off.
Side note: I agree with Anastasia, the ARC cover is much better than the official cover at least in my opinion it is.
The bottom line? It's worth reading if you like princesses, action, and mystery!
Related articles